Maps
---
Use these maps to get around national park. The following maps are here for your benefit — make sure you review them before your adventure to ensure a safe outdoor expedition. Always carry a map! GPS units are often unreliable in the mountains, and posted signs may be minimal in remote areas. Detailed forest maps are available in every forest office.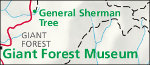 This map covers western part of Sequoia and Kings National Pars in a more detailed view then next map. Download the map here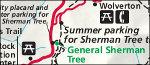 This map covers in detail 2 national parks, Sequoia and Kings National Park, showing how to get around the parks. Click here to see full PDF document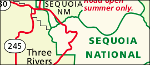 This is Ash Mountain Entrance to Sequoia National Park, here you can see how to get to parks from both Fresno and Visalia.  Download free map directly from National Park website download the PDF (100 kb).
This is Hume Lake Ranger District Motor Vehicle Opportunity Guide (MVOG) Map  in color and with a lot of details such as recreation facilities, land management, road and trail numbers, route numbers… Download PDF map here (7.8 MB)